Helm Guided Solutions

Helm Dental Laboratory can assist you with your choice of Guided Surgery options. We have multiple types of guided surgery software and can help you decide which works best for your case. We have surgical kits from several major implant companies that are available for loan upon request and availability.


CHROME GuidedSMILE™ DIGITAL, FULL-ARCH GUIDED RECONSTRUCTION is now available through Helm Dental Laboratory.
We are an exclusive lab provider of the CHROME GuidedSMILE in Texas.
CHROME GuidedSMILE allows you to deliver high level of precision and accuracy in your implant cases. The system includes anchored bite verification, anchored bone reduction, anchored site drilling, accurate anchored provisionalization, and a method of transferring all surgical and restorative information for the final restorative conversion phase.

| | |
| --- | --- |
| • | Preplanned Bone Reduction / Osteotomy Guidance / Abutment Placement / Prosthetics |
| • | No binding and bending of plastic - CHROME Fixation Base create utilizing SLM technology |
| • | No more blind drilling - CHROME allows visualization of the drill as implants enter the bone |
| • | No more lengthy conversions - GuidedSMILE conversion take just minutes to perform |
| • | Complete confidence - digital workflow and guide expertise is delivered by Helm Dental Laboratory |

Getting started with CHROME is simple. Dentate patients require just a CBCT, master casts, a bite, and some photographs. The process, the product, the surgery is straightforward! Call Helm Dental Laboratory to request CHROME GuidedSMILE! (972) 442-9772

coDiagnostiX™ from Dental Wings
With coDiagnostiX™ you can plan dental implant insertions precisely and easily. Helm designs and prints coDiagnostiX drill guides in the lab. These guides help you perform implant surgery in a fast, precise, and safe manner with predictable results. coDiagnostiX™ guides are available for many well-known implant manufacturers. coDiagnostiX™ is CE marked and FDA cleared.

coDiagnostiX Bone Reduction Guide

coDiagnostiX Surgical Guide


Dentsply Sirona Simplant®
Simplant® from Dentsply Sirona is a computer guided implant treatment concept. This comprehensive 3D system assists in accurate and predictable implant treatment. Helm Dental Laboratory can assist you in planning guided surgery cases using Simplant.

Simplant solutions are cost-effective, user-friendly and compatible with many implant brands. Simplant computer guided implant treatment is compatible with all DICOM compatible (CB) CT scanners and major optical and intraoral scanners. Using state-of-the art 3D technology, Simplant guides are developed, designed and manufactured by Dentsply Sirona Implants.

Simplant Pilot Guide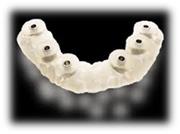 Simplant Pilot Guide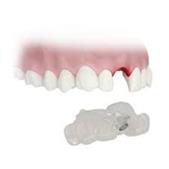 Simplant Tooth Supported Guide
Single Implant